How to Promote Your Restaurant on Instagram
Search 1000s of TikTok & IG influencers at Hypetrace
As a restaurant owner, you probably asking yourself: how do I promote my restaurant on Instagram?
If you're not already using Instagram to showcase your restaurant's menu items, you're missing out.
Instagram is a match made in heaven for restaurants and their customers.
Not only can you take advantage of Instagram as a place to share what's on your menu, but you can also encourage customers who visit your restaurant to share their images when they visit.
There are a crazy amount of hashtags available for foodies, and the food is one of the most shared items on the platform.
70% of diners check pictures of food or reviews online before they visit a restaurant for the first time. Just imagine that!
Since consumers are using modern tools to lookup and get in touch with businesses, restaurants need to be using the same platforms in order to increase their online visibility. This article highlights the key benefits of Instagram marketing for restaurants and similar establishments.
Pro tip 👉 If you are looking for food & lifestyle influencers to promote your restaurant locally, check out this Instagram influencer search engine.
Why your restaurant business should be on Instagram?
In 2022 it's hard to imagine any good reason for being absent on Instagram. Unless you happen to be one of those types of businesses that neglects to have a sign and is invite only.
Given you're researching Instagram for restaurants that don't seem to be the case. Your company most certainly should be on Instagram.
Instagram offers a variety of tools to help you promote your business and engage with customers. You can also be relevant locally by using the right hashtags and updating your location on the platform.
Restaurants are also extremely easy to promote on Instagram because they sell an item that pretty much everyone is interested in, food.
There are a variety of good reasons to be on Instagram, but we've decided to highlight the three most important reasons.
Boost in exposure
Gone are days when your restaurant business could sustain on flayers, local newspaper ads or word of mouth referrals.
As more and more people have access to internet and mobile devices, social media restaurant marketing should be one of your main marketing channels. The most popular platform to lookup pictures of the food is, you guessed, Instagram.
That gives restaurants an amazing opportunity for more exposure, 24 hours, 7 days a week and 365 days in a year.
The kind of exposure that Instagram can bring used to cost businesses a lot of money. But now, you can get your business in front of millions of users for effectively no money at all. You need to spend the time to learn the ropes and master the art of getting exposure on Instagram.
Instagram's explosive growth is only going to lead to more users on the platform, which in turn will mean more competition. Time to start acquiring users and working to gain exposure is now.
Increased customer engagement and loyalty
Your customers love your food, and if they enjoy it enough, they might also like talking about it. Increased customer engagement is an easy way to help maximise exposure for your business, but it's also extremely important to any healthy business.
Customer engagement will mean more word of mouth promotion for you, something that is extremely important for being successful with younger customers. It will also mean more reliable revenue for your restaurant.
With engagement can also come loyalty. If you offer incentives for customers to share pictures of your product on Instagram, you might be able to increase participation, as well as make people feel like an essential part of your community and your business.
For example, if you encourage people to share your food online, and offer a free item, or a discount for every photo that gets over a certain number of likes, this might encourage more sharing.
More sharing means more content at no cost to you. It's also an excellent way for your business to reach the followers of those who share your content. This could mean more business or more followers, and it could all start to snowball from there.
Visibility and shareability
A crucial part of having your business on Instagram is to be visible, and allow users to share and search for your content. If you've already thought about being online, then you already understand how important it is to make sure that when people come looking for you, they have something to find.
Not being a part of the conversation could cost you a lot and only gives your competitors run for their money.
If you're not on Instagram, you won't appear in searches. If you do not appear in searches for your content, you are missing out. If someone wants to follow you and you don't have a page, you might also seem to be a bit behind the times, which could cost you business.
After all, Instagram is an essential way in which people decide where to eat nowadays. Not being a part of the conversation could cost you a lot and only gives your competitors run for their money.
If you're not on Instagram, you will also lose out on the ability for people to tag you in posts about your product, your food. If someone enjoys your food and it's presentation, and they want to share their excitement with their followers, they will probably be pretty bummed out to see you aren't on the platform. Not to mention, you lose the ability to connect with that customer and their followers.
How to promote your restaurant on Instagram
Don't neglect your profile
Your profile should be the cornerstone of your strategy on Instagram. This is where customers will see all the information about your business first. So you should make it as easy as possible for them to understand what you serve, where you are, and why they should visit you.
Profile photo
Select the perfect profile photo for your business, in your case as a restaurant; you'll want to use your company's logo most likely.
Location
Make sure to add your location to your profile. This will be paramount in converting Instagram page visitors into customers and patrons at your business.
Profile username
Decide on your username. This will be the name that is preceded by the "@" symbol on your profile. It's also the unique identifier that will be in the URL for your Instagram profile, like instagram.com/[yourusername].
This will ideally be your business's name, but if taken, you'll need to be a bit creative with how you vary it up. You might try adding the type of restaurant you are, or bar after your businesses name is taken.
Profile name
Pick a unique account name (similar but different from your username).
It's worth to note that informations you provide in your bio - including name and username - are going to be indexed and discoverable via Instagram search.
Pro tip 👉 To increase your chances of being discovered, place the keywords in your name and profile description. If you're a pizzeria in NYC, for example, you might want to include that in your account name.
Look - these businesses are already winning, making themselves visible when I search pizzeria nyc in the search bar: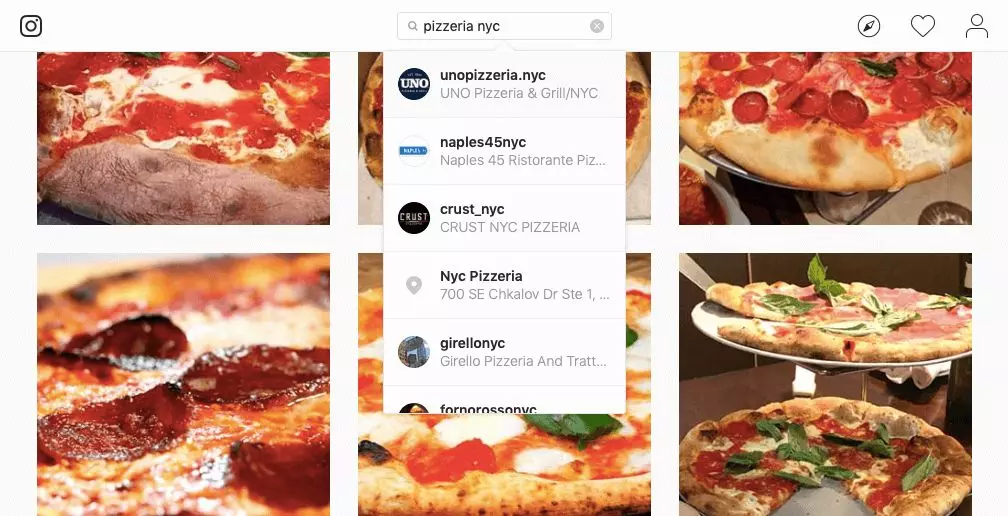 Profile description aka bio
Write a great bio. Let your customers know why they should pay your restaurant a visit, and make sure they know everything they need to know about what you have to offer.
Do you have the best happy hour in town? Put that in your bio.
Taking on deliveries? Put that too!
Special deals? Yes please! You get the idea.
Link to your website
Include a link to your website. This will be the only clickable link that you are allowed to place in your Instagram profile so be wise about where you link your page visitors to. It might be a good idea to set up a custom landing page on your site with a menu and your hours readily available to visitors.
Make your restaurant Instagrammable!
Okay, let's snap some photos!
But wait, is your restaurant a good place for hoards of Instagram foodies to come in and snap selfies with your dishes?
Coming up with an Instagram-friendly restaurant is not that hard, you just need to put a your heart and a bit of creativity into it.
Changes to food presentation and décor are a great few ways you can encourage people to snap more photos.
Another way to make your restaurant business Insta friendly is taking a good care of your guests. Do they have free WiFi or are they phones fully powered to take on a Insta session? Maybe the lightining isn't great and could be improved?
Anything that gets people making more photos will be a good measure of your efforts. Photos are good because they are shared and bring more eyeballs craving for your delicious dishes. Free viral marketing right here! And this is what our next point is about…
Encourage sharing
Encourage your Instagram followers to share your content. If your followers aren't sharing photos of the food they eat when they visit your restaurant or engaging with the pictures you post, you are missing key opportunities to spread the word about your restaurant. There are many ways you can do this.
If you have something that makes your business special or unique, and stands out, flaunt it and encourage others to flaunt it as well.
One great way to encourage sharing is by offering something worthy of being shared. If you have an item on your menu or an unusual feature/item in your restaurant or bar, make that known to your followers.
If you have something that makes your business special or unique, and stands out, flaunt it and encourage others to flaunt it as well.
Asking a question on Instagram is a great way to encourage engagement. A great way to do this, and potentially gain attention is to solicit ideas and opinions about your menu item or food in general. People have opinions, and this may be one good way of using those opinions to drive attention and traffic to your business.
Partner with bloggers and influencers
Another great way to encourage engagement is to partner with popular bloggers, foodies, and Instagram influencers to promote your account and your business via instagram influencer marketing campaigns. These folks will have a more significant following than your account most likely, and they will most likely have a higher level of trust with their followers. They are an excellent resource for cross-promotions.
Try offering them a free item, meal, or steep discounts and hopefully they will be willing to partner up. Encourage them to share pictures and video of your business and make sure to show them a good time and get their full endorsement. Do your researcher and make sure you are reaching out to influencers who will value what you have to offer.
For example, if you are a brewpub, you'll want to make sure that the Instagram influencer you reach out to likes beer.
If you can encourage them to become a customer, they might naturally post about your business without encouragement on your behalf. This should be your goal.
Run Contests
A great way to draw attention to your page and to encourage users to view and share your content is to run a contest. Try offering something for free by signing up, or host a trivia game night. The possibilities are endless.
By creating an incentive to share or enter into the contest, you'll drive visibility to your page and your business, and you could even give people who might have been unaware of you a reason to stop by and give you a try.
You might also try partnering up with an influencer to help run, and promote the contest.
Use the right hashtags
Last but certainly not least is to use the right hashtags. Without doing this, your business does not stand a chance. Using the right hashtags is the cornerstone of search on Instagram, and by not using them correctly you might not be able to develop much of a following at all, beyond people who search for your page directly.
Tag all of your posts with hashtags and make sure they are relevant. Do some research to discover what are the most popular hashtags, and what are the most popular hashtags in your niche. You'll want to use a smart combination of popular and less popular hashtags for your posts. By doing this you can appear to a broad audience, and a more engaged audience at the same time, increasing your chances of being found by the right followers.
Be sure not to spam your posts with too many hashtags as well. Doing this could be just as bad as not using hashtags at all. People might see your posts as spam, or Instagram could go as far as banning your account or preventing you from appearing in search.
Instagram Restaurant Marketing: Final note
If your restaurant is not already on Instagram, you are missing out.
Instagram is the perfect social media website for a restaurant to be on. It offers the greatest opportunity to promote visual content in a way that is appealing. Whether it's photos of your food, or videos of the atmosphere or kitchen, Instagram has so much to offer restaurants regarding promotional content.
Images of food tend to be one of the most shared items on Instagram. Be a part of the conversation.
About the author
Karen
Karen is a senior technical writer and copywriter here at GrowFollowing. Her area of expertize are social media apps and new media.