A Dream Twitter Growth Service? Hypegrowth Review
Search 1000s of TikTok & IG influencers at Hypetrace
Finally, I was able to review one of my favorite marketing Twitter growth services out there: Hypegrowth.
If you weren't living under a rock, you've probably aware that social media space is changing rapidly and everyone is on the lookout to aid themselves with new ways to grow.
The Twitter platform is no different and if you are scratching your head now what Hypegrowth is and how it can help you, read on.
Okay, but how can I grow my Twitter following?
What is Hypegrowth?
Hypegrowth is currently one of the most reputable all-done-for-you Twitter growth services available.
Thanks to the organic methods utilized and their team's marketing knowledge, it became a well-known service in the world of marketing.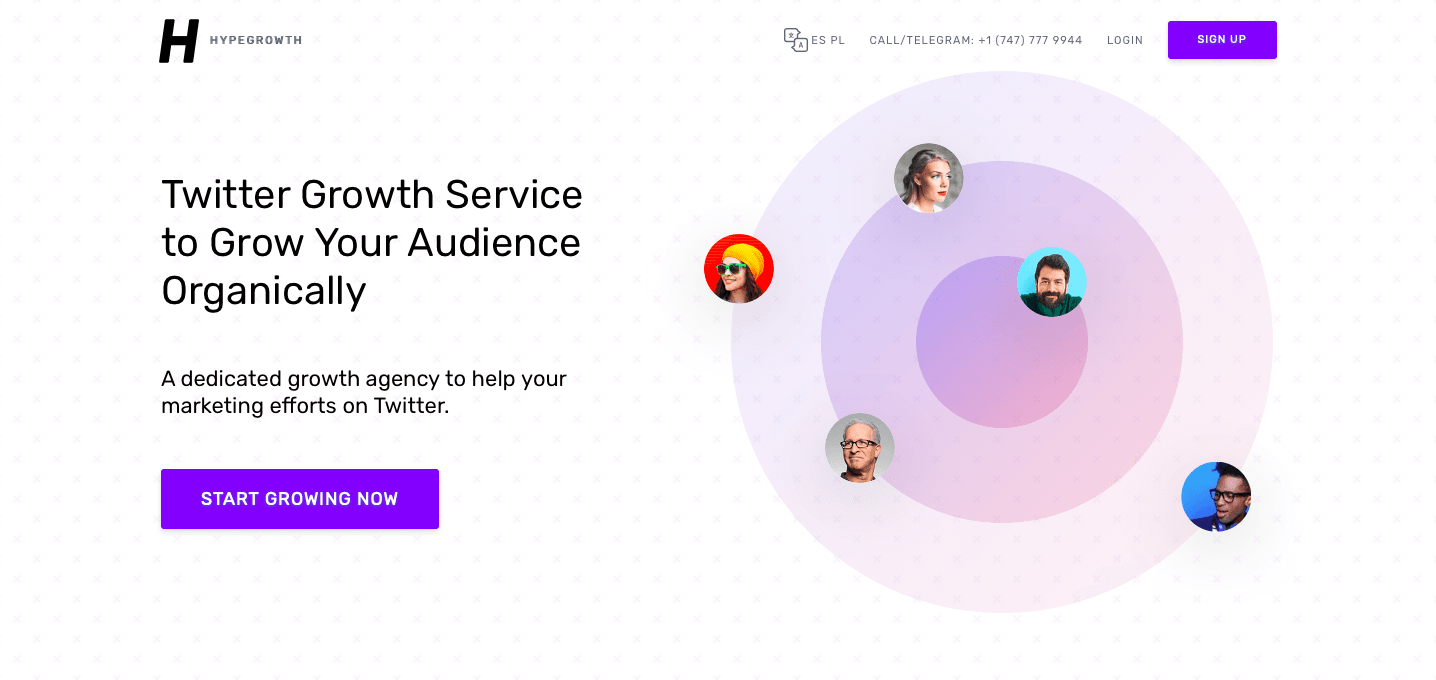 Why should you consider using Twitter Growth Service?
Growing Twitter following and being noticed in the sea of tweets is not an easy task. Whether you are an experienced marketer or a newbie to marketing on Twitter, staying on top of constant Twitter algorithm updates might give you a headache.
A big advantage of this Twitter growth service is that it can help grow your Twitter audience without any prior marketing knowledge (hear that John?).
Even if you are somewhat experienced and got the know-how, there is still no doubt that growing Twitter followers is a time-consuming and mundane task. Wouldn't be great to simply outsource your Twitter growth completely?
With Hypegrowth, you can completely outsource that part to the experts and focus on other things.
So how much time are we talking about? Their team claims it can save you up to 3 hours of work a day, every day. For their entry 99USD/month fee, I call it a win!
How does the Hypegrowth service work?
The service utilizes the power of organic engagement.
After your campaign is researched and set up, their team will go about and find people on Twitter who are your potential followers and follow them on your behalf.
To get started with Hypegrowth you will need to answer an initial onboarding questionnaire.
Based on this, the team will be able to perform research and set up your campaign.
This process might take up to 5 hours and it's the most important part - done right will have a major impact on the overall performance of your growth campaign.
Who is Hypegrowth for?
As a marketer myself I know social media is one of these parts I try to outsource as early as possible. I can see few types of people who would benefit a lot from the service.
Using Hypegrowth as a Marketer
If you are a tech-savvy marketer who values your time and looking for a medium with the best ROI, it shouldn't come as surprise you might be looking at how to use Hypegrowth for your marketing efforts.
Although Twitter marketing for marketers is not rocket science, constant updates and changes introduced in the Twitter platform are not something easy or fun to track and stay on top of.
How Hypegrowth can help you leverage Twitter growth?
Since you already know who is your potential target on Twitter, just include these details in the onboarding email you will receive the moment you sign up - giving information about target demographics and interests will be a great first step to assure you are set for a good start.
From there, you don't need to do pretty much anything else as the Hypegrowth team will take things from there and after initial research, launch your campaign. Yep, it's that simple!
This means you can focus on other elements of your Twitter growth strategy and the Hypegrowth service will work while you are sleeping.
Using Hypegrowth as a Founder
Time-poor entrepreneurs and founders (especially those solo) constantly are on the lookout for how to maximize their marketing efforts with as little time spent as possible.
Gone are days when Twitter marketing for business owners had to be a time-consuming and mundane task.
Hypegrowth as a turn-key solution will not just give you more hours but if it happens you are not marketing oriented person, you get the support of people who spent years in marketing and know their things inside out.
That all combined might be one more reason to give it ago, instead of doing it all yourself and burning money, which, especially at the early stages of your company is a sacred resource.
How to make the most out of Hypegrowth as a founder?
Once you subscribe, let the team know about the customers you are after and their buying habits. This will help them with targeting research.
Also, make sure to mention your competitors - since your competitors have followers already, it will be an excellent resource for them to research and pick up potential targets.
Using Hypegrowth as a Blogger
Whether you are a seasoned blogger or a serious, full-time writer working day and night on your website, you probably want to reach for new, potential readers, interested in your content.
Twitter was always one of these places where any type of blogger, with a bit of effort, could find a desirable audience. Despite what people say that "Twitter is dead", I wouldn't agree with it, especially seeing how many conversations it certainly can stir up.
How Hypegrowth can help you grow followers and website traffic?
It would be good if you know already a few bloggers who are an authority to you - this will help the Hypegrowth team to search for a similar audience.
Once your campaign is up, you will see new followers rolling in no time! Don't forget to include a link back to your blog or email newsletter so you can convert them into newsletter subscribers directly from Twitter.
Using Hypegrowth as an Influencer
Being an Influencer, you probably already know that, whether you want it or not, the first thing you will be judged by is the number of followers you currently have and their engagement.
Most of the influencers can't afford marketing teams so having a dedicated, hands-off Twitter growth service where things magically happen while you are sleeping is like having a personal marketer.
How Hypegrowth can help Influencer as you grow?
Twitter is a great tool to reach out and connect not just with fans but also with potential brands to seek collaboration opportunities. Killing two birds with one stone seems like an opportunity that shouldn't be missed.
While the Hypegrowth team is working on your account, you could focus on your brand image and forge new partnerships with brands.
Using Hypegrowth as a Twitch Streamer
If you are serious about Twitch streaming, Twitter is one of the best places to find your audience.
There is no Twitch streamer without a Twitter account (let me know if you know one ;) ). Twitter is a great place to find your potential audience and convert them to your raving fans.
But just having a Twitter account alone and showing off your gaming endeavors is not enough these days. You need a way to amplify your message and get noticed. This is what Hypegrowth is designed for.
How Hypegrowth can help you grow your audience and Twitch fans?
Use Hypegrowth to grow your fan base, attracting new Twitch viewers, and drive them back to your Twitch profile. Make sure to have a link to your Twitch profile.
You could also consider pinning a tweet with a sweet giveaway - whatever you think your fans deserve.
Hypegrowth, even for a newly set up Twitter account will work magic and you will be surprised how quickly you can get traction and start to gain Twitter followers and more Twitch viewers in no time.
Hypegrowth Alternatives
Now, let's look at some alternatives available currently on the market.
Sadly, there are not many of them and each has its own pros and cons.
Hypegrowth vs Twitter Ads
One of the most common ways when starting with paid Twitter marketing is reaching out to the Twitter Ad platform.
The differences
Here are some of the major differences:
Predictable pricing: With Hypegrowth you pay a fixed, monthly fee for the service, no matter the results. This is good as it won't dry out your budget which is a common thing when you run ads.
Lower CPF (cost per follower): We ran a Twitter campaign and compared the results with Hypegrowth.
Hypegrowth vs Buying Followers or Likes
Perhaps you have considered purchasing followers or likes from some of the services that offer it and wonder what would be the difference if you used Hypegrowth instead?
The differences
Let's go through major differences between using Hypegrowth and buying followers:
Authenticity: When you buy followers you can be sure they are fake profiles who will never interact with you. On the other hand, with Hypegrowth, you gain real followers who come from interactions done on your behalf.
Risk of suspension: When you buy followers, your follower counter goes up rather suspiciously quickly and Twitter is aware of that. This puts your account at risk of being suspended.
Risk of follower churn: The followers you buy might likely churn in the near future due to Twitter finding out and suspending fake follower networks or simply the seller withdrawing the followers at some point.
You won't have this issue with Hypegrowth since the followers gained are real, there is no risk of losing them unless you do something on your own to turn them off.
Hypegrowth vs Bots
Finally - we have bots and software-based services. How do they compare to Hypegrowth?
The differences
Risk of account suspension: botting on Twitter is against Terms of Service so the interactions might get your Twitter profile in trouble
Automation issues: software is just software - it can break, it can go wrong, and cause all kinds of issues with your profile, from skewed feed to awkward interactions. You don't want that. No one wants that.
Hypegrowth vs DIY
Okay, let's assume you are on a budget or simply want to put aside all these shiny options and do the Twitter growth by yourself. Not a bad idea if you have a curious mind like myself and willing to learn.
So what will you be missing with DIY compared to doing it with Hypegrowth?
The differences
Time: since you want to try to grow Twitter followers by yourself, this will require additional time spent.
If you are a busy type of person like me with a packed schedule, this will be a major time drag.
With Hypegrowth, once you complete the initial onboarding, you don't need to lift a finger - from that point, everything is done for you and you just watch your followers coming in.
Expertise: depending on your knowledge or ability to learn, you might have more or less luck finding your way in the world of Twitter marketing.
On the other hand, leaving all the work to the team at Hypegrowth - even for someone who never had contact with marketing or is not a tech-savvy person - is like a walk in the park.
Are you an experienced type? Having an extension of your brain and hands that you can trust and delegate work is always a plus.
Follower gain with Hypegrowth
So how many followers realistically you can gain? This will depend on a few factors.
One of them is the niche you are in. Certain niches are more suitable for Twitter than others.
For example, if you are a startup founder and want to connect with other individuals online, Twitter will work better for you and give you a better reach than if you are a cosmetics brand.
But of course, this was just an example and since marketing is a constant experiment, the best will be if you give it a spin for at least a month to see how it works and how many followers you can gain.
Customer Service
If there is one thing that everyone is raving right now about Hypegrowth, that will be for sure the customer service.
These guys are obsessed with support. You can live-chat with their team as well as call them directly on their US number.
Pricing
At the time of writing this review, there are two plans available: Pro (99USD/mo) and Accelerated (199USD/mo).
The Pro plan is enough to get you started and grow. Bigger profiles with a larger number of followers will require more time and effort so it's recommended to enroll in for Accelerated plan if you have at least 10 000 followers and over.
Hypegrowth Review: FAQ
A couple of other details you might want to know:
Will my account get banned?
No. This is an organic service so your account is safe. The team stays with Twitter limits and there is no spam involved.
Do I need to disclose my login credentials?
Yes. Twitter growth service is no different from having a marketing manager or an agency.
Since a real person will be responsible for your growth, to do their work, they will need your login credentials. However, you don't necessarily need to reveal them - with tools like LastPass, you can share your login credentials without revealing your actual password.
Are there any coupons available?
At this time, I am not aware of any coupons and discounts. If anything changes, I will make sure to update my review.
Final Thoughts
Everyone around is looking to up their game if it comes to their Twitter marketing efforts and you should be no different.
Marketing on Twitter can be fun and a Twitter growth service like Hypegrowth certainly shines here.
With a dedicated manager, stellar customer service, and an uber-ambitious team, you will feel like having Twitter superpowers!
Rate: 4.5/5
About the author
Karen
Karen is a senior technical writer and copywriter here at GrowFollowing. Her area of expertize are social media apps and new media.